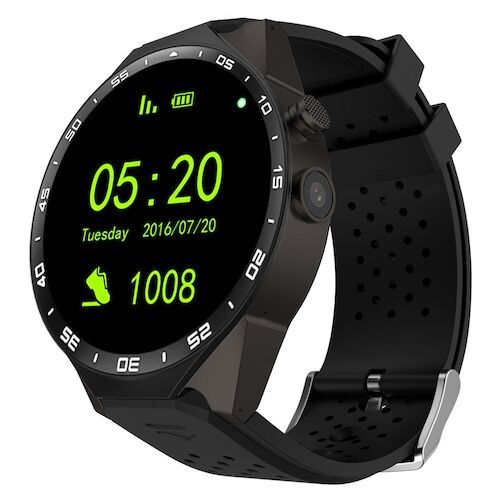 KingWear KW88 3G Smartwatch Phone
Buy now
gearbest.com
Features
Brand: KingWear
Type: Watch Phone
OS: Android 5.1
CPU: MTK6580
Cores: Quad Core
RAM: 512MB
ROM: 4GB
External Memory: Not Supported
Compatible OS: Android
WIFI: 802.11b/g/n wireless internet
Network type: GSM+WCDMA
Frequency: GSM 850/900/1800/1900MHz WCDMA 850/2100MHz
Support 3G: Yes
GPS: Yes
Bluetooth: Yes
Bluetooth Version: V4.0
Screen type: Capacitive
Camera type: Single camera
Front camera: 2.0MP (SW 5.0MP)
SIM Card Slot: Single SIM
Speaker: Supported
Picture format: GIF,JPEG,PNG
Music format: MP3
Video format: MP4
Languages: Indonesian, German, English, Spanish, French, Italian, Polish, Portuguese, Vietnamese, Turkish, Arabic, farsi, Hebrew,Russian, Hindi, Bengali, Thai, Burmese, Korean, Japanese
Additional Features: 2G,3G,Alarm,Bluetooth,GPS,Notification,Wi-Fi
Smartwatch Phone: 1
Screen Protector: 1
Battery: 400mAh Built-in
USB Cable: 1
Screwdriver: 1
English Manual: 1
Product weight: 0.0650 kg
Package weight: 0.2750 kg
Description
Tips:Unlocked for Worldwide use. Please ensure local area network is compatible. click here for Network Frequency of your country. Please check with your carrier/provider before purchasing this item.KingWear KW88 is preorder now so the language and other information will be confirmed when it's on...
User reviews
pois é meus amigos, devo de ser uma pessoa extremamente azarenta, pois o dito produto que eu adquiri e ao ver aqui tantas criticas maravilhosas, afinal não passa de publicidade enganosa.Ponto nº 1 o smartwatch que me chegou hoje 13-11-2018, além de não ser em 1º mão sim isto começa loga assim basta ver a foto em anexo, pois já vinha com conta do play store activa que como é evidente não era a minha.Ponto nº 2 o botão de ligar/desligar para nada serve, basta ver os videos em anexo, talvez essa tinha sido a razão de eu ter recebido um smartwatch já usado.e para finalizar Ponto nº 3 após ter feito um reset para conseguir ter acesso ao play store com a minha conta o grandioso smartwach deixou de funcionar. isto tudo num espaço de cerca de 2 horas.Agora pergunto eu como vamos resolver esta porcaria toda, visto estarmos a falar de 80 tal euros e esta porcaria para nada prestar visto não funcionarsó para dizer que não consegui colocar no vosso adicionar de videos mas coloco aquihttps://www.youtube.com/watch?v=B1mCIErCalw&feature=youtu.behttps://www.youtube.com/watch?v=mDD5d1eitpc&feature=youtu.be - The watch has some issues while pairing with a smartphone - The companion app for the smartphone (issue common for many chinese electronic products) is of an overall low quality, has translation errors, pairing problems and does not allow streaming internet through bluetooth. It is highly probable, it won't be updated ever again 🙁 - Not much memory avaible for the user - over 1GB instead of advertised 4GB 🙁
- Excellent build quality - Beautiful amoled round screen - Full-fledged Android 5.1 makes this not a smartwatch per se, but rather a smartphone in a watch form (you can insert a nano-sim card) - Quite powerful due to quad-core processor - Nice design and good materials - Size and form factor is not too big nor too small 🙂 - Feels like a high-end smartwatch (packaging, overall quality, design etc.) - Many watch faces available - Two screen protectors and a screwdriver incuded - Price of course (makes this a steal) 🙂 nichts
Vor der Bestellung war ich etwas unsicher, ob die Uhr meinen Erwartungen entspricht.Ich muss sagen, die wurden sogar noch übertroffen.......klasse Verarbeitung,Top Design (Ähnlich der Tag Heuer connected).Alles läuft flüssig,und das verbaute Amoled Display hat eine superscharfe Darstellung..Auch der Versand ging superschnell.Einzig der verbaute Akku könnte etwas ausdauernder sein, aber das ist zu dem angeschlagenen Preis wirklich jammern auf hohem Niveau.Noch ein Tip.....ladet euch nicht die empfohlene App "WiiWatch" herunter,die taugt nichts.Watch- Droid ist momentan die beste App um eure Watch mit dem Smartphone zu verbinden. No momento ainda não tive nenhuma experiência negativa com o relógio, tenho usado bastante. Boa partes das informações sobre o produto, eu já tinha tomado conhecimento antes mesmo de comprá-lo. Por isso, não estou surpreso com suas limitações. Dentre as quais, destaca-se o tempo de carga da bateria, que varia bastante conforme o uso. Penso que um dos grandes gargalos dos smartwatch ainda seja o tempo de autonomia das baterias, com uso moderado dura aproximadamente 01 dia apenas. Eu tenho mesclado ao ponto de passar 02 dias com uma carga.