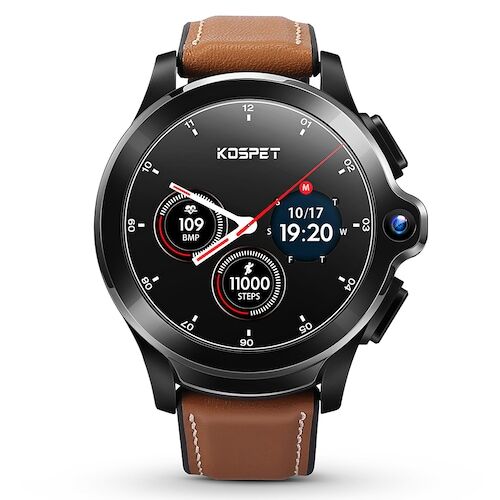 KOSPET Prime Face ID Dual Cameras 4G Smartwatch 1260mAh Battery 1.6 inch IPS Screen Android 3GB RAM 32GB ROM Healthcare Sports Smart Watch for Men
Buy now
gearbest.com
Features
Brand: Kospet
Model: Prime
Type: Watch Phone
OS: Android 7.1.1
CPU: MTK6739
Cores: 1.25GHz
RAM: 3GB
ROM: 32GB
External Memory: Not Supported
Compatible OS: Android,IOS
WIFI: 802.11a/b/g/n wireless internet
Network type: TD-SCDMA+FDD-LTE+TD-LTE+WCDMA+GSM
GPS: Yes
Bluetooth: Yes
Bluetooth Version: V4.0
Screen type: IPS
Screen size: 1.6 inch
Screen resolution: 400 x 400
Camera type: Dual Camera (one front one side)
SIM Card Slot: Nano SIM Slot
TF card slot: No
Micro USB Slot: No
USB Slot: No
Mini USB Slot: No
Microphone: Supported
Speaker: Supported
Picture format: GIF,JPG,PNG
Music format: FLAC,MP3,WMA
Video format: MP4,RM,RMVB
Languages: English, German,French, Spanish, Portuguese, Italian, Russian,Hindi, Arabic, Ukrainian, Czech, Danish, Hungarian, Dutch, Hebrew, Norwegian, Polish, Romanian, Turkish, Greek, Serbian, Persian, Korean, Japanese, Indonesia, Malaysia, Philippines, Tagalog, Vietnam, Bangladesh, Thai, Cambodia, Simplified Chinese, Traditional Chinese
Main Functions: Heart rate measurement,Message,Music Sync Function,Pedometer,Remote Camera
Additional Features: Alarm,Calendar,Sound Recorder,Waterproof
Smartwatch Phone: 1
Screen Protector: 1
Charging Dock: 1
USB Cable: 1
User Manual: 1
Product weight: 0.0830 kg
Package weight: 0.2660 kg
Product size (L x W x H): 27.40 x 5.08 x 1.75 cm / 10.79 x 2 x 0.69 inches
Package size (L x W x H): 12.00 x 10.50 x 6.50 cm / 4.72 x 4.13 x 2.56 inches
Description
The Leap of Smart WatchCompared to a typical smartwatch, KOSPET Prime SE supports 4G Nano SIM card, which allows you to make separate calls and receive or send messages when your phone is not around. It uses 1.6 inch IPS touch screen with 400 x 400 resolution that clear display and easy to...
User reviews
Excelente acabamento, muito bonito e rápido, as abas de acesso dos aplicativos são bem intuitivas fazendo o uso ser bem simples, tem a vantagem de colocar todas as acoes bem acessíveis o que facilita muito quando usa como acessório do telefone em corridas ou caminhadas, da pra ver bem as notificações porem não da pra responder, e bem rápido não trava tem excelente resposta, porem as câmeras são bem desnecessárias, se você tiver um fone Bluetooth para usar com ele o armazenamento interno será excelente, mas se você não tiver que usar ele para isto é algo bem desnecessário, o apk é externo então vai ter que liberar acesso de APK não liberados pelo android/ios reduzindo a segurança do aparelho, o monitor dele no telefone é precário em informações, tem poucos modelos de aparência para tela principal, ele é bem completo sim, mas peca em alguns detalhes, o GPS é ultra lento para encontrar o sinal do satélite, em resumo ele é excelente para quem quer andar apenas com ele no pulso apesar de ser bem pesado você nem se importa muito com isso, mas quando se trata de recebimento de informações e funcionalidades ele é um excelente Smart mas peca nas informações, no geral é excelente, eu recomendaria, mas ele tem esses detalhes desnecessários para quem quer usar ele como Gadgets do telefone já não compensa tanto porque ele tem muitas funções que não serão usadas. Resumo se você quer um telefone bem completo no pulso independente, ele é a melhor opção não há nada melhor que ele acredito eu, mas se quer um acessório do telefone ele é ruim carece muito de informações tanto os APK internos não tem um bom acabamento de informações quando o APK do telefone até o momento deste comentário talvez em atualizações futuras isso seja resolvido.
Qualche dubbio sulla reale durata dichiarata. Ho installato Battery Life per verificarla, ma devo attendere 7 giorni perchè le statistiche vadano bene. Attualmente indica 24 ore a schemo spento e 14/18 a schermo acceso. La funzione per farlo durare 3 giorni o power save si attiva da spegnimento cliccando su annulla (bug?!).Con TomTom Autovelox attivo + GPS + WIFI (hotspot creato da smatphone) e schermo sempre acceso lo smartphone dal 65% si è scaricato in 3,5 ore circa.Ho qualche difficoltà a trovare app compatibili. Pur avendo android 7.1 per esempio Cardiogram non funziona e Google FIt non rileva il battito cardiaco. L'app per monitorarlo nativa Kospet fa una media e non registra un vero grafico di variazione. Ho installato poi Quickify e funziona bene e manca un filtro per far si che nello smartwatch siano visibili solo le notifiche che mi interessano (es: solo alcuni contatti whatsapp/telegram o solo alcuni account email).Il cinturino si adatta bene al polso.Il Face recognition a volte non funziona (meglio farlo di sera con il viso illuminato da un monitor e tutto nero dietro (così riconosce il 90% delle volte).Il GPS durante i movimenti a velocità costante arriva a sbagliare di 4 metri.Facilissimo passare da visualizzazione schermo rettangolare/quadrato a schermo pieno (che mette out alcuni bottoni specie durante le registrazioni di account).Telecamera da 8MP molto buona per le dimensioni presenti.Difetto: piegando il polso verso l'alto la mano la pelle tappa le uscite audio del kospet che divene così muto.
I've had the watch for almost 2 weeks now asked I'm very pleased with it. when with my bad eyes I can type on the small keyboard. it works well and you can use many apps but give yourself time to set them up and get them right because it can be a bit finicky.the sound quality is amazing and the video and photos are very good. ok it's not perfect but it's a watch. the quality is great for an average phone much less a watch.the battery will go quick even with its size of you don't set things up correctly. it's not a phone even though I can make calls and use WhatsApp etc. it all works great but choose what you really need or your battery will be out by the evening. mines last a good day and a half sometimes 2 but if I use it a lot I need to change it in the evening. what let's it down are the selection of watch faces and the lack of dual it multiple time modes or zones. in fact you can't really Access as much as one should on the watch face. Also when you lift your wrist it takes about 2 seconds to jump into life. tooo long!As for facial recognition this to me is just a gimmick. it's too long to be useful and you can pin lock the watch. I just don't use it. I did at first and quickly stopped.all in all for the money it's great. better than expected with a quality build and feel too.